Posted by Kate Carlisle Jul 12 2010, 4:01 am in Kate Carlisle, Silhouette Desire, The Millionaire Meets His Match
By Kate
I am beyond thrilled with the release of my first romance, The Millionaire Meets His Match! Adam Duke is the millionaire in question, and he's Silhouette Desire's Man of the Month for July. How cool is that?!
After a rough early childhood, Adam was adopted by heiress Sally Duke, along with two other boys. From their early childhood experience, the Duke brothers believe that love doesn't last and leads inevitably to pain. They vow to each other that they will never get married. Adam is determined to keep that pact.
The poor guy doesn't stand a chance when Trish James enters his life!
So now let's party!!!
A Night of Fantasy
I'm hosting our launch party today at the fabulous Fantasy Mountain Resort and Spa, the latest luxury property from Duke Development International. Hop aboard Adam's private jet and enjoy a nice glass of champagne while you recline in plush leather seats.
We've left behind the Sacramento skyline. The beautiful California coast will be visible for several minutes out the left side of the plane before we make our way toward the mountains.
Ah, here we are, at the Fantasy Mountain airstrip. A quick limo ride later, and we arrive at the magnificent, six-story Arts and Crafts style resort.
Smile for the paparazzi! They're here in force, as they always are for events hosted by the Three Most Eligible Bachelors of California. The Duke brothers are looking fine in their tuxedos.
There's dancing in the main lodge, so get your boogie on. Call out your requests. The band knows everyone's favorites, guaranteed. What kind of band? Whatever kind you like – this is Fantasy Mountain, after all. We can all dance to the beat of our own drummer.
When your feet get tired, pop into the spa for a relaxing shoulder massage from Sven or Konrad.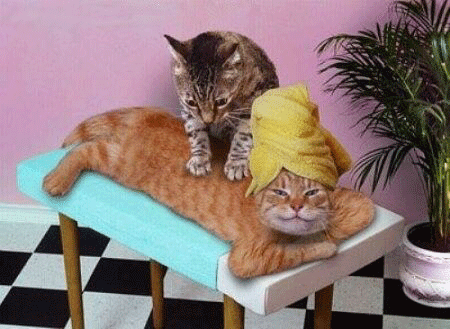 (Or Ingrid, for those of you looking for the feminine touch.)
Don't forget to order your favorite cocktail from our cabana boys! And dinner will be served whenever you want it. We have a table just for you in front of the wall of windows looking out onto the mountain scenery. The staff is here to cater to your every whim.
Thank you again for celebrating with me! This has been the perfect way to introduce The Millionaire Meets His Match to the world.
And please visit my brand new romance website! It's katecarlisle.com/romance, and I'd love to know how you like it! Do you like the colors? Do you like the graphics? Is there anything missing from the site? Let me know!
Once you've got your cocktail in hand, I have some Red Carpet questions for you: What are you wearing? Will you be on tomorrow's Best Dressed List, or the What Was She Thinking page? Who is your date? Who is the celebrity you most want to meet tonight? (Living or dead – We're on Fantasy Mountain, remember!)
Posted by Kate Carlisle Jun 25 2010, 4:01 am in Kate Carlisle, The Millionaire Meets His Match
We always hear about the millionaire playboy, but seriously. Trotting the globe alone. Sounds kind of sad and pathetic, doesn't it? How much fun could a man have, bedding different women every night? No man wants to do that! Snort!
After a while, arm candy would make a millionaire sick.
Or at least, it would a millionaire of character, like Adam Duke, the hero of my latest book, The Millionaire Meets His Match. Adam has no intention of ever settling down, but that's because he doesn't realize how much a wife – the right wife – would add to his life.
So here are the Top 10 Reasons Why Every Millionaire Needs a Wife
10. She makes a fabulous tax deduction.
When you're raking in the bucks, you need every tax deduction you can get. Which brings us to…
9. He needs someone to bear his insanely gorgeous heirs.
No mansion is complete without the sound of children laughing as they play in the bowling alley or build a fort in the wine cellar. Of course, it will be a while before the children inherit because…
8. Married men live longer.
He needs time to enjoy all that money. And of course, he won't truly enjoy it without a woman to help him spend it.
7. He needs someone to name the yacht after.
As well as to model for the sculptor of the figurehead.
6. He needs someone to keep away all those skanks who are only after him for his money.
Who do they think they are?!
5. He needs someone to buy jewelry for.
Tiffany blue just doesn't look good on a man.
4. Who else is going to watch the pool boy?
The millionaire is too busy. Someone needs to make sure the pool boy gets every leaf! And is properly covered with sunblock.
3. He needs someone to help him choose a tie to go with his thousand-dollar suit.
The valet's taste is simply too traditional. The millionaire needs a woman with an eye for color and a sense of whimsy to choose his ties to keep him from taking himself too seriously.
2. To get his mother off his back.
Does every millionaire have a matchmaking mother, or just Adam and his brothers?
And the number one reason why every millionaire needs a wife…
1. Because everyone deserves to find love, even millionaires!
(A big thank-you to my Facebook fans, who helped me brainstorm this list. If you're on Facebook, I hope you'll come say hi! Join the fun! We share funny videos, talk about interesting articles, and just generally have a good time.)
Let's have fun with this! What other reasons can you think of? Why does every millionaire need a wife?
Posted by Kate Carlisle Apr 25 2010, 6:00 am in bibliophile mysteries, Kate Carlisle, librarians, The Millionaire Meets His Match
By Kate
I was a born reader. Weren't we all?
I think my love of reading was honed by the fact that my family moved every few years. We always moved in June, after school was out, so for the first three months in a new house in a new town, I had no friends.
But that was okay, because the first thing I would do in a new neighborhood was scope out the closest library. I would ride my bike there almost every day, check out three to five books and read them that day. The next day, I would return and pick up three to five more. I was a voracious, if lonely, reader for many years.
Now that I'm writing the Bibliophile Mysteries, I meet librarians everywhere I go. They are the personification of the word bibliophile. (Bibliophile: A lover of books. A collector of books.) Many of them, like my protagonist, Brooklyn Wainwright, also have an interest in bookbinding, both as an art as well as a survival mechanism. Think about it. Because of budget cuts, librarians often have to repair or rebind their own books, just to make them last longer. So if you love books (and who here doesn't?), think about donating to your local library or joining your library's Friends of the Library group. Librarians everywhere will love you!

We interrupt this blog to announce that Romance is in the Air!!
It's my first Silhouette Desire cover! Isn't he–er, it–beautiful? I love him!!! Er, the cover. I love it!
The Millionaire Meets His Match will be out in July, but you can pre-order it now! Just click the cover.
Ahem. We now return to our regularly scheduled blog.
Everyone here is a book lover, so how did it happen? Do you remember your favorite book growing up? Do you have a library you love? Tell me about your favorite librarian or your favorite book. How did you become the voracious reader you are today?