Posted by Kate Carlisle Dec 22 2012, 12:05 am in 12 Bandita Days of Christmas, bibliophile mystery, Kate Carlisle, recipes
I hesitate to tell you this in case "they" lurk around this blog. You know who I'm talking about. Them. The cookbook writers who are out to get me. For years now, I've been convinced that they conspire to make me feel inept. Although they look sweet and unassuming, mischievous intent lurks behind those fake, friendly smiles. They claim something is foolproof… but I fool them!
Of course, as a mystery writer, I love a good conspiracy theory – and I simply had to find a way to use it in a book. The next Bibliophile Mystery is titled A COOKBOOK CONSPIRACY, and now you're in on the private joke. It stems from my irrational fear of recipes, a fear shared by heroine Brooklyn Wainwright.
A COOKBOOK CONSPIRACY will be out in hardcover and ebook in June – my hardcover debut! –but it's available now for pre-order on Amazon and BN.com. What's equally thrilling to me is that the book's blurb is posted on both sites, and I really love it! If I hadn't written this book, I'd want to read it!
It's a recipe for disaster when bookbinder Brooklyn Wainwright is asked to restore an antique cookbook…

Brooklyn has always been a little obsessed with food, but it was her sister Savannah who became a chef, graduating from the prestigious Cordon Bleu school in Paris. She and her classmates all went on to successful careers, but none of them achieved culinary superstardom like Savannah's ex-boyfriend Baxter Cromwell.

When Baxter invites the old gang to participate in his new restaurant's gala opening in San Francisco, Savannah looks forward to seeing her friends, and even asks Brooklyn to restore a tattered cookbook—an old gift from Baxter—as a present for him. But Brooklyn immediately recognizes that the book, which has strange notes and symbols scrawled in the margins, is at least two hundred years old. She thinks that it probably belongs in a museum, but Savannah insists on returning it to Baxter.

Shortly after receiving the gift, Baxter is found dead, with Savannah kneeling over him, bloody knife in hand, and the rare cookbook has disappeared. Brooklyn knows her sister didn't kill him, and she suspects the missing cookbook might lead to the real villain. Now Brooklyn will have to turn up the heat on the investigation before Chef Savannah finds herself slinging hash in a prison cafeteria.
A COOKBOOK CONSPIRACY on Amazon
A COOKBOOK CONSPIRACY on BN.com
To celebrate the blurby awesomeness of my latest blurb, I share with you a recipe that is better than foolproof – it's Kateproof. And it's perfect for those holiday potlucks you'll be attending over Christmas and New Year's.
Kate's Black Bean Party Dip
2 T olive oil
1 small onion, diced
2 cans of black beans, drained and rinsed
1 C of your favorite jarred salsa
8 oz. Monterrey Jack cheese, cut into chunks
Warm the olive oil in a pan, and sauté the diced onion for about a minute. Add the black beans and mash them up in the pan. Add the salsa and the chunks of cheese and warm it all up together until the cheese gets nice and melty. Serve warm with tortilla chips. (Fake-gourmet cooking tip: If you warm the store-bought tortilla chips in the oven – in a bowl, not in the plastic bag – your guests might think they're homemade. It makes a big difference!)
And don't forget, we're nearing the end of our 12 Days of Bandita Christmas celebration! Be sure to comment to be eligible for our daily Bandita prize as well as our SUPER-DUPER GRAND prize giveaway Christmas Day. For today's giveaway, I'm also including a signed copy of PERIL IN PAPERBACK and some cool Bibliophile swag!
Are you attending – or hosting – any holiday parties? What food do you like to bring to a potluck?
Posted by Beth Andrews Dec 20 2012, 2:00 am in 12 Bandita Days of Christmas, A Marine For Christmas, Beth Andrews, Christmas cards, Christmas don'ts, Christmas movies, eggnog, gift wrapping, prizes, recipes, tinsel
So many people have holiday traditions, things they do each and every year, and while we definitely have more than our fair share of Dos, today I'd like to talk about a few of my Don'ts.
I don't:
Use tinsel. Not one sparkly strand. Oh, don't get me wrong. I'm not anti-tinsel – as a matter of fact, growing up, we always had tinsel (or what we called "icicles") on our tree. We'd grab the glittery stuff and toss it willy nilly all over that beautiful evergreen. It was so ingrained in me that during the first few years of marriage, my husband and kids and I repeated the tradition. Until I actually had to clean up all that shiny stuff – from the floors, the furniture, our clothes…so, yeah. No tinsel. Not even the garland kind. I'm now used to a less sparkly tree. *g* (I've also outlawed any and all Easter grass during Easter but that's a whole 'nother post) The tree pictured here is my mom's, hence the sparkle.
Make or drink eggnog. I know it's traditional and all and I love eggs as part of a meal but the idea of drinking them just gives me the heebie jeebies *shudder*. So…no eggnog even though Big Sis (older daughter) loves it. This year I'm making apple brandy. Hey, that can be traditional, right?
Watch Rudolph the Red Nosed Reindeer, Frosty the Snowman, How the Grinch Stole Christmas or The Year Without a Santa Claus. They (and a few others) freak out my children (who, I might add, are 21, 18 and 15 but still…) It's the artwork for some reason *shrug* It's such a deep-seated fear that the other night when I found The Year Without a Santa Claus on TV, Big Sis wouldn't come into the living room until I'd turned the channel. I tried to talk her into watching the part where Heat Miser sings but she'd have none of it.
Send Christmas cards early. Ever. I always plan on having them done weeks ahead of time but it never happens. Some years I've barely made it On Time. Oh, and I always save my kids' school pictures to include in the cards but I don't always remember to actually put them in the envelopes.
Put ribbons or bows on wrapped presents. I used to. I used to spend hours wrapping presents, curling ribbons and making perfect bows (I even got a wooden bow-maker one year – you wrapped the ribbon around it somehow…wonder if I still have that?) and being creative with my wrapping. Now I'm lucky if I don't run out of wrapping paper, tape and/or gift tags. Seriously. I've been known to use the Sunday comics for wrapping paper, stickers (yes, stickers) in place of tape and folded pieces of scrap paper for tags. It's not pretty.
Let my kids step one foot into the living room on Christmas morning until my husband and I have coffee in hand, Bing playing on the CD player and the camera ready to snap a picture of their reactions at seeing all the presents Santa left. As I mentioned, two of them are now legally adults and yes, we still do this. And yes, Santa still leaves presents AFTER they've gone to bed Christmas Eve.
Hey, I can't spend all that time wrapping presents. I have goodies to make! Here's a super easy one that also happens to be my husband's favorite:
Peanut Clusters
2 – 12 oz packages of white chips
1 – 12 oz package of milk chocolate chips
1 – 12 oz package of semi-sweet chocolate chips
5 cups Spanish peanuts.
Combine chips in a large bowl. Melt. (Can melt over low heat of a double boiler – I use a glass or metal bowl over a saucepan of an inch or so of simmering water) or in the microwave (med heat for 2 minutes, stir, then microwave in 30 second intervals, stirring after each, until melted and smooth).
Add Spanish peanuts, stir until coated. Drop by rounded tablespoonfuls onto wax paper lined cookie sheets. Refrigerate until firm, about 45 minutes. (We love a salty/sweet treat so I sprinkle a bit of sea salt on top of half of these *g*)
What are some of your Christmas Don'ts? I'll draw one name to win a set of The Diamond Dust trilogy which kicked off with A MARINE FOR CHRISTMAS!
And you DON'T want to miss out on the 12 Bandita Days of Christmas! From now until December 25th we're celebrating the holidays with daily recipes and PRIZES! It's all leading up to a HUGE Prize bundle of books and goodies on Christmas Day! Tomorrow's guest, Jeannie Watt, is giving away THREE copies of her latest release for SuperRomance, CROSSING NEVADA!
Posted by Beth Andrews Jul 3 2012, 4:16 am in Amanda Usen, guest blogger, Luscious, recipes, Scrumptious
Today I'm thrilled to welcome author and chef Amanda Usen to the lair! I met Amanda a few weeks ago when I gave a workshop in Buffalo, NY, and I knew right away you'd all find her as smart, witty and as much fun as I did *g* Here's Amanda:
True Love and Homegrown Tomatoes
My husband is a fantastic gardener, and his favorite thing to grow is heirloom tomatoes. He grows different kinds every year. This year we are waiting on Orange Jubilee, the Charlie Chaplin, Chocolate Drop, Gooseberry and Brandywine. The names are almost as much fun as the tomatoes, and my husband can't resist the more unusual varieties. Last year, he had a ball offering friends samples of his Cream Sausage and Black Seamen tomatoes. Seriously, who could resist?
Each year we discover a new favorite, although Orange Jubilee and Brandywine always make it into the mix. I also love the Yellow Currant (so tiny and cute), Black Pearl (like a cherry tomato but darker, and sweet as candy) and Rainbow (as pretty as it sounds).
It's an unspoken rule in the household that we don't buy any tomatoes at the grocery store or even at the farmers' market. We wait for our tomatoes…although I want them now! I can't wait to sit on the back porch with a glass of wine and eat grilled bruschetta until I absolutely cannot hold another bite. It is our simplest summer pleasure, but it feeds my soul. I can taste the sunshine on the tomatoes and basil. The juicy tomato water soaks into the bread, adding flavor. The kiss of salt, pepper and grill char add mystery. Garlic gives it bite…and a little bit of risk. It's best to know who you're going to kiss when you're eating bruschetta!
Since my husband and I are both chefs, I always use our recipes in my books. It makes the research easier, except when my husband is cooking and I say, "Wait! I want to measure all of your ingredients for my blog!" So far that has only happened while he was making chimichurri http://amandausen.wordpress.com/chimichurri/ but I plan to nab his meatball recipe soon.
Since Luscious, my second culinary romance, is set in Italy, I put grilled bruschetta on my characters' menu. It couldn't be easier to make, but somehow it transcends the simplicity of its ingredients. Grilling the bread does something magical. No fancy-schmancy chef stuff in this recipe. If you can slice bread, tomatoes, basil and garlic and operate a grill, you can have your very own simple summer pleasure. Note: For a truly Luscious experience, enjoy the bruschetta with a glass of Arrowhead Spring Vineyards 2010 Chardonnay. I helped harvest and crush the grapes for that vintage while doing research for the book! Here's the recipe:
Luscious Grilled Bruschetta
1 baguette
Enough tomatoes to make 2 Cups, seeded, diced
5 good leaves of fresh basil or 1 t pesto
¼ clove of garlic mashed with ¼ t salt
Freshly grated Parmesan cheese (optional)
Use a serrated knife to slice the bread into ¼ inch ovals, on the bias. That means set your knife up at a 90 degree angle to the bread, and then twist the knife about 30 degrees to the side and start sawing.
Brush the bread with a little bit of olive oil, then sprinkle it with salt and pepper. Heat the grill.
Next, make what we refer to in my house as "tomato glop." Dice your tomatoes, leaving as many seeds as possible on the cutting board. Fold the basil leaves into a tiny package, and slice it across one way to make thin ribbons. Then slice across the other way to chop. Use a Chef's knife to mince your garlic and smash it into a paste with the salt. Mix the tomatoes, basil and garlic in a small bowl.
Grill the bread until each side is marked.
Top each slice of bread with the tomato mixture. Sprinkle with Parmesan cheese. Eat. Mmmmmmm! Summer lovin'!
I know, I know…it sounds too easy. It is. I hope you'll try it and tell me if you like it as much as I do.
Thanks so much to the Romance Bandits for hosting me today! I love sharing books and recipes. For the chance to win a copy of Luscious, leave me a comment and tell me your simple summer pleasure. Margaritas on the deck? Ice cream on the porch? Water balloons in the yard? I'd love to hear from you!
 Amanda Usen knows two things for certain: chocolate cheesecake is good for breakfast and a hot chef can steal your heart. Her husband stole hers the first day of class at the Culinary Institute of America. She married him after graduation in a lovely French Quarter restaurant in New Orleans, and they spent a few years enjoying the food and the fun in the Big Easy. Now they live in Western New York with their three children, one hamster, two guinea pigs, a tortoise and a new-to-them beagle. Amanda spends her days teaching pastry arts classes and her nights writing romance. If she isn't baking or writing, she can usually be found chasing the kids around the yard with her very own luscious husband. If you want to chat about romance, writing or recipes, please visit her blog Writer. Chef. Romantic. http://www.amandausen.com where you can find recipes for many of the yummy dishes in her books. She can also be found on Facebook  https://www.facebook.com/amandausen and Twitter https://twitter.com/#!/AmandaUsen
Luscious Blurb
Eat, play, love
Plain old ice cream just isn't going to cut it. To beat these blues, chef Olivia Marconi needs the good stuff: rich, creamy tiramisu gelato. And no place better to get it than Italy. But a fresh start is nearly impossible with Sean Kindred dogging her every move. She's been burned by his too-hot-to-handle antics before. Though there's no denying the man can still get her all fired up. Could a weeklong affair finally turn into something more lasting…or will it all go up in flames?
Posted by Kate Carlisle Nov 25 2010, 5:10 am in Kate Carlisle, recipes, Thanksgiving
By Kate
It's Thanksgiving Day here in the USA and many of us are looking forward to celebrating the day by cooking, watching football, and eating too much.
Oh, and we also give thanks for that which we've been blessed.
Now, as some of you may know, I am officially known as the worst cook in the world. No, really. I burn things. All the time. Our smoke alarm gets a real workout whenever I step into the kitchen.


And yet, for my family, I took a chance and cooked several side dishes for the holiday. So what do I have to be thankful for this Thanksgiving?
I didn't burn anything! Hallelujah!!
Yeah, it was a shock for me, too.
Okay, now let's talk about what I'm really thankful for this time of year.
I'm especially thankful for my dear family and for so many wonderful friends here in the Lair and elsewhere. I'm thankful that I'm able to write books for a living and I'm doubly thankful for all the fabulous readers, booksellers and librarians I've met all over the country. Thank you!!
So now, just for fun … here's a snack to enjoy at a holiday party or a small gathering with friends. It's an old family recipe and so simple to make, even I can do it—without burning anything!
Be careful with these – they're addictive! They only take 5 minutes to mix, then 20 minutes baking time.
Kate's Crazy Mixed-Up Nuts



¼ cup butter
2 tbsp Worcestershire sauce
1 tsp each: seasoned salt, celery salt and garlic powder
½ tsp ground cumin
¼ tsp. each cayenne pepper and pepper
1 c. shelled walnuts
1 cup pecan halves
1 cup whole almonds, lightly toasted
Preheat oven to 325 F. Melt butter in a small saucepan. Add Worcestershire sauce and seasonings. Simmer over low heat for several minutes for flavors to blend. Stir in nuts and transfer to a shallow baking pan. Bake for 15 to 20 minutes, stirring occasionally.
Makes 3 cups. (Great with cocktails. And they can also be tossed on salads.)
Wishing everyone in the States a very Happy Thanksgiving! And to our friends in other parts of the world, a very Happy Thursday!!
I'm enjoying a cool, sunny day here in Palm Desert, California. Where are you today? How's the weather? And what are you thankful for today? For sharing with us on Thanksgiving, I've got a signed copy of THE LIES THAT BIND and some fun promo goodies for one random commenter!
Posted by Beth Andrews Nov 20 2009, 8:33 am in Beth Andrews, recipes, T-shirts
by Beth
No, I don't mean the famous Muppets' character with his bushy eyebrows and mustache and bork, bork, bork – although he is one of my favorite characters *g*. The chef I'm referring to is my own mother.
Okay, so maybe my mom was born in America but her grandparents hailed from Sweden, resulting in her not only getting to lead the procession on Saint Lucia's day when she was a young girl (complete with a wreath of lit candles on her head, no less) but her heritage also helped shape the meals and traditions she passed down to her own family. No, we never celebrated St. Lucia's day when I was growing up, but we did have three dishes I consider very much a part of my mom's heritage. I also consider them very…unique…if only because I've never met another person who has ever heard of them, let alone eaten them
Korv. We only had Korv (otherwise known as Swedish Christmas sausage) at the holidays. As a matter of fact, my mom still cooks and serves Korv for Thanksgiving. It's a sausage made of beef, pork, potatoes and spices. My mother boils it then browns it in the oven. We've never eaten it on a bun (although I'm sure you could) but just plain. Actually, though it's a mild sausage, I don't eat it at all *g* But my husband likes it.
Lutefisk. Now this…delicacy…(and believe me, I use that term loosely *g*) is one my husband does not like. To be honest, I can't think of anyone who does like it except my dad. My husband first tried it when we all traveled over to my mom's hometown for lutefisk dinner at my uncle's restaurant. I told him not to eat it but as this was early in our marriage, he wanted to impress his in-laws and ignored my advice.
Let's just say he regretted it *g*
Lutefisk is dried cod prepared with lye. Basically, the fish is soaked in water for a few days then the saturated fish is soaked in a mixture of water and lye which gives it a jelly-like consistency. Then, to make it edible again, it's soaked in water a few more days before it's cooked. My mom always made lutefisk in a white gravy served over mashed potatoes. But believe me, there isn't enough gravy in the world to make it any less nasty. She stopped making it years ago. A fact for which we're all thankful for
Pepparkakor cookies. Yes! Finally, a recipe I do like *g* These cookies are still a staple at my mom's at Christmas time. My son loves them even more than I do. They're sort of like gingersnaps but my mom's are darker, rolled paper thin then cut into shapes. I don't have the recipe at the moment but I'll see if I can find it to post. They're labor intensive because of how thin you have to roll the dough but if you like a crisp, sweet, ginger/molasses-like cookie, the effort will be worth it!
Have you heard of (or tasted) any of the items I've listed? Cooked them yourself? What are some of the recipes handed down in your family?
Posted by Tawny Weber Jul 16 2009, 7:18 am in Heroes and Hunks, recipes, Tawny Weber
I love recipes. A smidge of this, a dash of that, and little care and voila – a delicious result. Especially when the smidges and dashes are mixed together by Banditas (and Bandita Buddies, of course). For fun, Auntie Cindy came up with this idea and we thought we'd share a few
Bandita Recipes. Not for a decadent chocolate dessert or a rich stew, but even – much more likely to be found in the lair – a tart margarita. Nope, these are the Perfect Hunk Recipes. We all have our own idea of the perfect hunk, right?
Aunty Cindy's, for example:
Take Indiana Jones' fedora, whip, and derring-do
Add a pinch of Will Turner/Orlando Bloom's intensity

Mix with Wolverine/Hugh Jackman's physique
A dash of James Bond/Pierce Brosnan's mischievous sparkling eyes
Blend well, pour into a Regency waistcoat and savor the results.
Oh my, doesn't he sound tasty?
Posh shared this recipe:
T
ake Thomas Crowne/Pierce Brosnan's sly genius
Add Rick O'Connell/Brendan Fraser's to-die-for physique
Add a dash – just a little – of Will Ferrell's zany humor
Mix with Kurt Russell's macho good looks
And finish off with a sprinkling of John Cusack's vulnerability
Voila!
*wiping drool off chin* Voila, indeed!!
Mmm, getting hungry yet?
Nancy offered this:
Hugh Jackman's height (we tall females like that), build, and non-Wolverine hair Pierce Brosnan's eyes Viggo
Mortenson's swordsmanship Gregory Peck's voice in Patrick Stewart's accent Daniel Craig's hard edge leavened with Richard Dean Anderson's humor (not a movie hero, but I'm warping him in (no pun intended – that's the other STAR thing) since Stargate was a movie). And doesn't Craig have dimples? I'd like there to be dimples.
Ooooooohhhhh, dimples. What's yummier?!?!?!
Donna's recipe is quite specific!
Troy/Eric Bama physique
Patrick Swayze ability to dance
American Gigolo/Richard Gere eyes

Jude Law lips
Alan Rickman intensity
Hugh Jackman accent
combine, shaken – not stirred Then serve. Do not under any circumstances cook I like my man raw
I can see her point, can't you?
Madame had this recipe to share:
Richard Armitage's intensity Daniel Craig's toughness Matthew
McConaghey's easy charm (when the occasion warrants) Stephen Fry's wit (OK, my guy has multiple personality disorder. What can I say?) Looks like Clive Owen
Mouthwateringly delicious, if you ask me!! I'd
take two helpings.
Beth shared her favorite recipe: Take Ryan Reynolds' physique Add Bradley Cooper's sexy grin Mix with Shia LaBeouf's unique charm, A smidge of Seth Rogan's humor And a dollop of Hugh Jackman's accent and singing ability. Stir gently, pour into a movie theater seat and enjoy!
*sigh* Now doesn't that sound wonderful?!?!

And my recipe?
Start with Johnny Depp, with his humor, smile and personality
Sprinkle lightly with Legolas' serene mysticism
Add a large dash of Hugh Jackman's delicious physique
A hint of Jon Bon Jovi's rocker voice An extra large spoonful of Captain Jack's naughtiness
And a smattering of Rick Castle's boyish charm
Stir him all up and serve him to me on a very large platter, with a side of chocolate sauce!!
How about you? What would YOUR perfect hunk recipe be?
Posted by Tawny Weber Jun 14 2008, 5:42 am in Beth Andrews, Not Without Her Family, recipes, Tawny Weber
by Tawny Weber

Many people may or may not realize that the awesome Beth Andrews is my cove
ted Critique Partner (as in I will share her, but get first dibs… just don't tell Vrai Anna) and I'm overjoyed to see her fabulous debut, NOT WITHOUT HER FAMILY on store shelves now! For fun and pleasure (my fun in tormenting her, your pleasure in reading the results) I talked Beth into answering a few questions for today's blog… and here we go: (btw: I tried to find a different picture of Beth and I to share, but most are blackmail material and probably should be kept off the net… for now)

So Beth, you wrote one hot hero in your debut, NOT WITHOUT HER FAMILY. He's the ultimate sexy good boy. Wanna share a little about what your inspiration was for Jack Martin?
First, thanks for thinking Jack's sexy – I find him quite sexy myself! Actually, I started with Kelsey, my heroine. She's a reformed troublemaker–or at least, that's what she'd like people to believe *g* So I knew I wanted a hero who would give her a run for her money, who would really force her to grow and evolve into the person she's meant to be, the person she's been hiding behind her sarcastic wit and tough girl persona. And I came up with Jack *g* He's a by-the-book police chief to her rebellious bad girl. I wanted him to be controlled and just a real steady arrow. Someone who knows what they want, knows right from wrong but wasn't so rigid that he couldn't bend once in a while without breaking. The more I wrote, the more Jack evolved and that's where his sexiness sort of…leaked through into the story
Hmmm… Jack leaked? Really? Okay, this image is killing me!

LOL – That's what you get for letting me answer questions after 9 pm — Leaking heroes
And Kelsey – OMG I love her! She's such a total smart-alek, yet so vulnerable. How did you manage to balance those distinctive traits so well?
It was tough. I've written several snarky heroines and to be honest, it took me a few tries before I was able to soften Kelsey enough to make her empathetic without having her lose her edge. I realized if Kelsey said something harsh or smart-aleky (I think I just made up a word *g*) then I needed to show WHY she was acting that way. Out of fear? Insecurity? Anger? Defensiveness? Also, I had to make sure she didn't come across as mean or nasty (another tough trick) but mostly, I had to make sure she wasn't ALWAYS the wise-guy. She has moments, especially around Jack's daughter, where she lets her guard down and her vulnerabilities show.
This is so hard to get across, too. I remember how many times we… I mean, you reworked Kelsey to bring those vulnerabilities to the surface. And as the writer (and CP, ahem), I know you KNEW the reasons behind her smart-alekiness (to take off with your word *g*) but bringing those reasons out for readers to see. What was it that made you aware that Kelsey needed a little softening? I know it wasn't CP input since I adored her rough edges *g*.

Hey, don't try to get out of it – you were with me every step of the way with this story *g* And I adored Kelsey's rough edges too which was why it was so hard to see that she needed softening a bit. Luckily, I had an editor explain to me that she came across as a bit…harsh and if I took her rough edges too far, she'd become unlikable. My current editor helped me see that sometimes taking out a single sentence can make all the difference. So even though I thought Kelsey was hilarious and witty, taking out some of her zingers and one-liners really made all the difference in how she comes across. I've definitely learned to take the adage Less Is More to heart with my writing
Great adage and what a solid writing tip for us all! Now, I have to ask: Jack's daughter Emma
almost steals the story. You have a way of writing kids that keeps them real, but still makes them adorable (not saying real and adorable aren't synonymous with kids, but… well, hmmm.) Did you worry about her taking over?
LOL – Emma was so much fun to write! And yes, sometimes real kids aren't so adorable (as we know since we have real kids *g*) I didn't worry about her taking over until it was pointed out to me that she needed to be…toned down a bit. But really, to me, kids do have a way of stealing the spotlight in real life – especially one like Emma. They're just very hard to ignore
So true! And she did have a hottie for a daddy. How hard was it to create a flipped stereotype – single father hero with a fear of kids heroine?
Creating the flipped stereotype was very easy for me because I knew Kelsey so well that I knew the idea of being around kids would freak her out. (Again, what better way to torture her than to pair her with a single father? I'm so mean to my characters *g*) With her background, she knew nothing about kids, nothing about being a mother so adding Emma into the mix also added another conflict to keeping Jack and Kelsey apart.
So lets talk about this mean thing. I keep hearing rumor that you're intimidating and mean (and not just to your characters). Do you really think it through like that – here is my character and here are her deepest fears… now lets find the absolute worst person for her –in her mind– and bring them together?
Hey, who says I'm mean? Besides my kids, that is *ggg* And yes, you nailed it perfectly – that's exactly how I think it through. For example, in Not Without Her Family, Kelsey's brother Dillon and Jack's sister Allie are friends. Now, I think some people would like to see Dillon and Allie get together but the fact is, there's no reason for them to have a story. They have no conflict, no chemistry except that they're friends, he's a sexy bad boy and she's a gorgeous good girl. But that's it. So, for Dillon's story, I paired him up with the worst woman in town for him. Honestly, I torture the poor guy (and believe me, he was already tortured enough before I started his story *g*) but the end result, his happily ever after, is so worth it. At least, I hope it's worth it!
Ahem… methinks it's you who keeps claiming to be mean, but I'm usually laughing so I might be mistaken.
Hey, it's not my fault you're not the least bit intimidated by me. I'd think my angry face would
scare you right out of your socks
LOL – you keep saying that and I just keep laughing. Maybe you should get a whip or something?

So, okay, back to it… I think, IMHO, your characters are the strength of your writing. They are so multi-dimensional and real that they jump off the pages. And yet you can distill them -their essence, lets say – down to a simple archetype description. How DO you do that?
Oh, thank you! That's wonderful to hear because I consider myself a very character driven writer. I start with an idea of who my character is and once that character has really gelled in my mind, I go through and figure out their archetype. I then use what I've learned to amp up their internal conflict and to give myself an idea as to how they might handle certain situations.
Can you expand on archetypes a little? Tell us more about the concept?

Uh…no? *g*
Kidding. Boy, you're really making me work, huh? Well, I'm far from an archetype expert but from what I've learned, an archetype is a person's personality, their characteristics. It's a way to get to the heart of a character. I use The Complete Writer's Guide to Heroes and Heroines by Tami Cowden, Caro LaFever and Sue Viders and I'm currently reading a book you recommended, 45 Master Characters by Victoria Lynn Schmidt. Both books give the archetype, the archetype's virtues and flaws as well as examples of each archetype. Once I've decided which archetype my character is (although sometimes they're a combination) I use the virtues and flaws to help decide on what their internal conflict will be and how they'll react to any given situation. I use it to get a good feel for my characters but honestly, once I start writing and get to know the characters as people, I let their individual personality take over instead of their archetype.
Clear as mud, eh?
LOL – Isn't it fun trying to explain your writing process? Thank you for humoring me and answering all these questions… even if you did make a few threats along the way.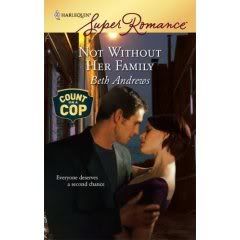 So, because Beth rocks, we're gonna celebrate her debut by me giving away her book *g*

In Not Without Her Family, there's a scene where Kelsey uses her favorite stand-by cookie recipe to help Jack and Emma out of a jam. What's your favorite go-to recipe, the one that never fails to impress at family picnics or neighborhood potlucks? Whether it's your mother's chocolate bundt cake, your own secret recipe crab dip or a tray of cookies from your local grocery store's bakery, we want to know! Share and Beth will choose one name to win a copy of NOT WITHOUT HER FAMILY!!
Posted by crocodesigns Dec 7 2007, 5:23 am in Aunty Cindy explains it all for you, Holidays, recipes
posted by Aunty Cindy
What a week we've had in the Lair! After having no less than THREE great guest bloggers, today you have to come back to reality with a post from me.
Louder, I can't hear you… BAH HUMBUG!

That's more like it. Excuse me while I turn the blog Grinchy green. I know, I know, Hanukkah only started 2 days ago, Christmas is still a couple of weeks away and Kwanzaa one day after that, but ENOUGH ALREADY! Please join me while I embrace my inner Grinch.

I've heard enough Christmas carols. Ever notice how certain songs get played TO DEATH over
certain holiday seasons? Like about a dozen years ago when the Grandma Got Run Over By a Reindeer craze hit? I swear I heard that song at least once every hour from the day after Thanksgiving until New Year's Eve, and if I NEVER hear it again, it will be too soon. I mean, come on, what little charm the ditty had was lost halfway through the second hearing. And honestly, is a song about matricide amusing?
I think not.

Then there was Feliz Navidad. Maybe this was just in California when we were trying to get back to our Hispanic roots or something, but a few years ago every time I turned around I was treated to Feliz Navidad, which is cute and catchy… Up until about the nineteenth time. After that I was ready to stomp on Jose Feliciano's dark glasses and give him a swift kick in the culo.
This year, they are out to ruin what used to be one of my favorites, the Carol of the Bells, thanks to that uber-annoying TV commercial.
MAKE IT STOP!
NOW!
And while I'm in full Grinch mode, let's make a deal with the presents. I'll give you nothing but cash or gift cards and YOU do the same for me.
I used to think giving money was a TOTAL COP OUT. This stems from the year my son was three and the week before Christmas, I got a card and a check from my Mother-In-Law saying, "Sorry, I didn't have time to shop. YOU do it for me." WTF?!?!?! I had a part-time retail job and a toddler! (she had neither) I was already DONE with my shopping. But have you tried to explain to a three year old why he has no presents from Grandma and Grandpa? So out to the Mall I went, snarling all the way!


This no giving cash for presents lasted until my Lovely Child was in his late teens and I bought him a boom box for Christmas. After he tore through the ribbons and wrapping paper, he curled back his lip and snarled, "This isn't what I wanted." Guess what his present has been every year since? Right, a cute little check with Merry Xmas written on the notation line in the corner. If I'm feeling extra festive, I write it with red ink.
I really hope my friends have taken the hint, especially the one who gave me the knife block a few years back.
I know, I know, what is so bad about one of those huge blocks of wood bristling with about a dozen different sized knives? Probably nothing except for two small details: 1.I DO NOT COOK (and yes, the friend knew this fact) so why would I need a dozen or more knives? 2. She bought me THE EXACT SAME knife block the Christmas before!
So please, do we have a deal on the presents issue? PLEASE?
Finally, there's the whole Holiday Goodies extravaganza…
Wait a minute, I actually LIKE that! Well, except for the I do not cook part. Notice I didn't say I don't know how to cook, because contrary to popular rumor, I do. And just to prove it, I'll include my super simple recipe for cream cheese cookies.
But first… GET GRINCHY WITH AUNTY! Tell me what bugs you most about the holidays. One commenter will win a cool Hawaiian Christmas Ornament, a nifty Bon Voyage purse calendar, and some Alaska Post It notes.
Aunty's Easy Cream Cheese Cookies
1 boxed cake mix (Devil's Food, of course! But Lemon is also very good.)
1 8 oz. brick of cream cheese (go with the light version if you are trying to pretend you're eating healthy)
1 stick of margarine (ditto with the above)
1 egg
Soften the cream cheese and margarine slightly (try NOT to nuke it into goo)
and mix them together
Stir in the egg (sans the shell please!)
Pour in the cake mix about a half cup at a time and keep stirring until the whole thing is mixed together.
Stick the bowl in the fridge for about an hour so that the cream cheese/margarine firms back up (this may take longer if you nuked it too much)
Drop rounded tablespoons full on a non-stick cookie sheet (or three, and try not to consume too much of the dough before you bake it, quality control notwithstanding)
Bake at 350 for about ten minutes (or until the edges look done)
ENJOY! And HAPPY HOLIDAYS!
Posted by Suzanne Ferrell Nov 29 2007, 5:01 am in Feeding the Writer, Holidays, recipes
by Suzanne Welsh
This year the Bandits are celebrating our first holiday season as a blog group. We talked in private how we could celebrate with you, our guests and readers. We decided to share some of our favorite traditions or foods with you. So starting today and ending with Boxing Day, December 26th, we'll have some of those favorite recipes for you to try, some great memories and stories to share with you, as well as some fabulous guests.
Every year after Thanksgiving I begin baking for the Christmas season. It's a tradition with my family that Mom is baking a new cookie or treat almost daily. Last year I'd injured my shoulder moving a patient and my husband realized that the stirring motion needed to make cookie dough was now impeded. So he bought me a new Kitchen Aid stand mixer…"so the kids can have their Christmas Cookies." Yeah right. Anyway, he saved the holiday season.
Here's the list that fluctuates depending on my mood and schedule:
Chocolate Mint Cookies
Buckeye Candy
Chocolate Covered Pretzels
Coconut Jam Thumbprints
Mexican Wedding Cakes (for hubby)
M and M Cookies made with green and red M and Ms
Peanut Butter Blossoms with Hershey Kisses
White Chocolate and Cranberry cookies
Raspberry Filled Pastries
Oatmeal Scotchies
and Cookie Cutter Sugar cookies my daughter ices with butter cream frosting.
The following recipe is one I actually make twice over the holidays. It's my kids' favorite, as well as several of their friends. The first batch always disappears quickly. My gift to all of you!
CHOCOLATE MINT COOKIES
I received this recipe while working at THE Ohio State University's L&D unit. It became an instant hit with my family and a staple of every Christmas celebration from that time on.
Ingredients:
¾ cup butter
1 ½ cups firmly packed Dark Brown Sugar
2 TBS. Water
1 package semi sweet chocolate chips
2 large eggs
2 ½ cups all purpose flour
1 ¼ tsp. Baking soda
½ tsp. Salt
Green chocolate mint wafers, (Andes). About 1 pound.
Directions:
Heat butter, sugar and water in a large heavy saucepan over low heat until butter is melted. Add chocolate chips, stirring until partially melted. Remove from heat and continue stirring until chocolate is completely melted. Pour into a large mixer bowl and let stand about 10 minutes until slightly cool.
With mixer at medium speed, beat eggs in one at a time. Reduce speed to low and add dry ingredients, beating just until blended. Refrigerate at least one hour.
Preheat oven to 350 degrees. Line 2 cookie sheets with foil. Roll tsp of dough into balls, place about 2 inches apart on cookie sheets. Bake 12-13 minutes. Cookies will appear soft. DO NOT COOK ANY LONGER.
Remove from oven and immediately place mint on each hot cookie. Let soften, then swirl mint over cookies to frost. (You can use the tip of a spoon or a toothpick.) Transfer to wire racks to cool completely.
HAPPY HOLIDAYS TO ALL OF YOU!
So is there a favorite food you have to have for the holidays or your celebration won't be the same?