One gal's junk . . .
Posted by Trish Milburn Aug 15 2014, 12:01 am
While visiting good friend and fellow author MJ Fredrick recently, she got me hooked on watching Junk Gypsies. If you're unfamiliar with the show, these two Texas sisters find what some might consider junk at flea markets and then use their creativity to reimagine and upcycle them into really neat decor items. It's a fun and inspiring show to watch. I've always been drawn to creativity in all its forms, even ones in which I personally don't have any talent. Whether it's painting, drawing, music, carving, sewing/costuming, doesn't matter. I think those of us who are creative in one way really appreciate the talents of those who are creative in different ways. So the fact that I really admire what these ladies do isn't a surprise. It also really speaks to my love of the idea of things getting a new life and prevention of waste. We're such a throwaway culture that I really love the the entire upcycling movement.
After coming back from MJ's, I continued to watch Junk Gypsies. And that led to me watching Flea Market Flip. This is a competition show where two teams of two people are given $500 and one hour to buy items at a flea market to complete three different projects. They only have one day to complete the projects, and then they have to try to sell their items at another venue. Whichever team makes the most profit on their items wins $5,000. I don't always like the styles that some teams come up with, but I admire how they all have their own distinctive styles, an eye for how to repurpose items that some people would just throw in the trash, and then how they're able to find buyers who share their appreciation for what they've created.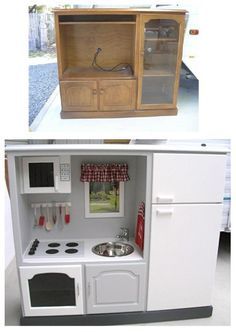 Pinterest is a fabulous place to get ideas for upcycling. And there are tons of blogs and websites devoted to the concept as well. In fact, when my husband and I recently sold our big entertainment center, I was sort of surprised how quickly it was bought. The lady who bought it said she was going to make a toy kitchen for her kids with it. Unable to visualize what she was talking about, I Googled it and was amazed at some of the before-and-after photos of that type of project. You can see a lot of these kid kitchens here.
All of this exposure to upcycling genius has me wanting to try crafting some projects myself. I don't have a lot of spare time, but I do have an ugly bookshelf that I might try to give a makeover this fall. We'll see if I can tap into another creative well or if it turns out to be a design disaster.
Are you  fan of upcycling? Do you make the projects yourself? If so, share some of your stories. I'd love to hear about them.
Comments