Books as Design Inspiration
Posted by Kate Carlisle Jan 25 2014, 12:05 am
A friend of mine recently took All Summer Long by Susan Mallery to the paint store to find a pale lilac paint color that matched the cover. Then she painted her home office that color, and it looks fabulous.
Which got me thinking about the cover of my next Bibliophile Mystery, THE BOOK STOPS HERE. I absolutely love the pop of color that the blue wing chair gives to the crowded old attic on the cover. It works, I think, because the walls are a neutral color, and that blue immediately draws the eye. (I hope it will draw readers' eyes when it lands in bookstores this June!) It's very similar to the blue accents on the cover of A COOBOOK CONSPIRACY. (I love my book covers! Can you tell?)
Because I'd love to find a chair that color (and because I had a proposal due to my editor and needed a specific way in which to procrastinate), I did a Google search for blue wing chair. Here are some of the chairs I found…
This one is too small:
These are too big:
This one's not eggsactly what I'm looking for:
This one is just right! Don't you love it?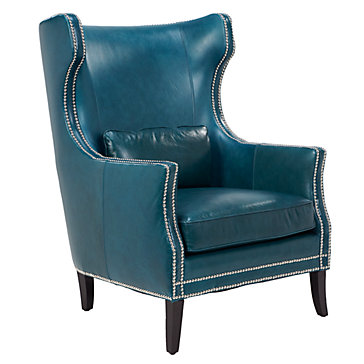 What book are you reading right now? Does anything on the cover give you design inspiration for your house?
Posted in bibliophile mysteries, book covers, cozy mysteries, home decor, Just For Fun, Kate Carlisle
Comments